I'm linking up with Farley for her July Currently....
I love love LOVE Bad Kitty books....I order every new one from Scholastic that I can :) The same can be said for the Pigeon books (by Mo Willems). These books are just FUNNY and they can be used for a variety of activities. I always liked to use the Pigeon books in conjunction with several reading strategies....it's a great way to teach the kiddos to observe expressions and mood in a book, as well as characterization. If you have not seen these books before, I highly recommend you check them out! The pigeon even has his own website! (Click on the picture below). Oh wait...I just found out Bad Kitty does, too! Click on her picture as well :)
I have to be honest. When we're given books during the school year to read, I cannot focus my mind on it and its often set aside or (gasp) I just don't read it that carefully. I mean, come on...how many other things do I have on my mind to get done at the time? I like to save that time for summer reading (right now, I'm trying to get my hands on a copy of Daily 5.....I know there's some floating around our school!).
However, Strategies that Work (red book)was an exception. I read the entire book ALL THE WAY THROUGH. DURING THE SCHOOL YEAR. Yes, for me, that's pretty significant (I mean, I need to grab and reread the Comprehension Shouldn't Be Silent book that's collecting dust in my room!). A few years ago, we were given the second edition (green book). I don't know whether it's because I liked the first one so much or what....but I did not enjoy it as well. They had different examples, but similar if not the same strategies. If you can, get your hands on a red copy!
As for the maid, I think we all need that when we are home and our kids are home from school. I thought it was bad during the school year! Whew! We're trying to keep it clean (as well as stick with a decent bedtime...that's hard too!). The rest of it is pretty self-explanatory. :)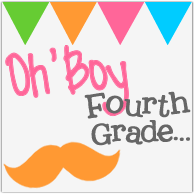 Be sure to check out Farley's new rule....I'm finding blog hopping to be a lot more fun during the summer when I actually have time to do it, and I'm not exhausted! :)